Back
May 12, 2021
Celebrate 520 at Ensue and Alcove
Love is in the air! After celebrating Mother's Day, we now celebrate romantic love. 520 which means 'I Love You' in Chinese, is a day to show a special someone you care.
On May 20, take your significant other on an amorous escape with our romantic menus for two at Ensue and Alcove.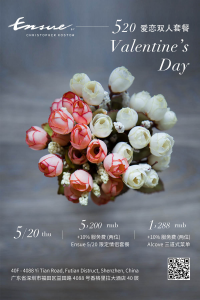 The exclusive degustation menu at Ensue (5200RMB +10% service charge for two) begins with a glorious array of premium seafood including oysters, caviar, geoduck and spiny lobster. With the approaching summer, our mackerel and grouper dishes take on a refreshing new look, followed by our pigeon baked in acorns and aged Chinese wagyu.
For the occasion, a specially crafted dish of venison tartare with rose tarts sparks surprise and harmoniously combines savoury and sweet flavours. To extend the romance, our team have also prepared homemade chocolates and flowers for couples to bring home.
Alcove will be serving a refined 3-course menu (1288RMB +10% service charge for two) which includes dishes such as clam and grilled brassicas salad, ribeye for two and a decadent chocolate dessert to round up the night. Guests can also savour our Valentine's Day cocktails accompanied by the stunning night view of the city in the backdrop.
Back